Special counsel Robert Mueller has wrapped up his nearly two-year investigation into Donald Trump and Russia and sent his report to Attorney General Barr.
No details of Mueller's findings have been released, and it is not clear how soon the public will see them.
However, Attorney General William Barr has signaled that he may send Congress the results "as soon as this weekend."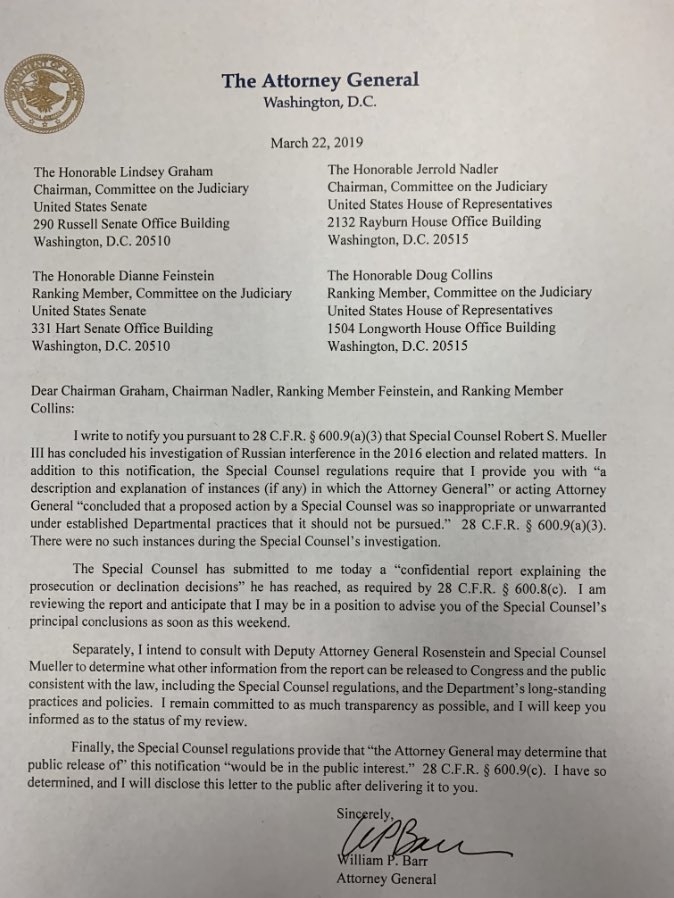 The transmission of the report to Barr concludes an investigation that has resulted in the indictments of 34 people, infuriated the president and thrown the administration into turmoil.
The long-awaited development comes almost two years after Mueller was appointed by Deputy Attorney General Rod Rosenstein to investigate "any links and/or coordination between the Russian government and individuals associated with the campaign of President Donald Trump" and "any matters that arose or may arise directly from the investigation."
To date, 34 people and three companies have been criminally charged in the sprawling probe, including Trump's former national security adviser Michael Flynn; former campaign chairman Paul Manafort; former political adviser Roger Stone; former personal lawyer Michael Cohen; and numerous Russian nationals. There have been a number of guilty pleas and convictions — but none of the charges have directly accused anyone in Trump's orbit of conspiring with the Russian intelligence operation to help Trump get elected in 2016.
It's unclear how detailed Mueller's report is, or when his conclusions may become public. According to Justice Department guidelines, his confidential report to the attorney general is supposed to explain "the prosecution or declination decisions reached by the special counsel."
The regulations under which Mueller was appointed don't compel Barr to give what Mueller submitted to Congress or the public, although Barr must make some official notifications to the House and Senate Judiciary Committees.
Barr has committed generally to airing publicly what he gets from Mueller — as much as permitted by the law and regulations.
He may opt to uphold that pledge by releasing a redacted version of what Mueller has prepared, or Barr may write his own report to summarize the confidential findings for public consumption.
Related: Congress votes 420-0 to make Mueller findings public, Trump agrees 'Makes us look good'
As the Mueller investigation picked up steam and various Trump associates were charged, the president increasingly went on the offensive, blasting it as a "witch hunt" and "a hoax," calling Mueller's investigators "angry Democrats" and singling out some who'd worked on the case. He labeled Cohen "a rat" for cooperating with investigators.
Trump refused to sit for an interview with Mueller — his lawyers said they were concerned about a "perjury trap" — but he did submit written responses to Mueller's questions in November.
In a tweet, White House Press Secretary Sarah Sanders said that the White House has not been briefed on the report.